DateWare, a DEVKIT-DH SOLUTIONS LTD company, is a new company that allows you to easily create your own social network without limitations.
With the DateWare Online Platform, you can now build, in a simple and easy way, your own social platform. By creating this type of community, you can start generating revenue by allowing users to share their content, subscriptions, and online courses, among others.
Taking A Closer Look At The DateWare Online Platform
If you are looking for a place to build your own social network, you'll love the DateWare platform and all its features. Ultimately, you don't need to know code and there are no limits to what you want to do since it comes with so many features.
In terms of designing your social network, you can not only use one of the more than 60 templates available but also customize them as you wish. From background images to colors, you can even use custom CSS codes to make it just like you imagined.
Don't Forget About Monetization
Although the design part is incredibly important, you need to think ahead. After all, your main goal is to create a new stream of income. So, you want to make sure that you use a platform like DateWare Online Platform that allows you to easily monetize your network. Since all major payment methods are already integrated into the platform, you just need to choose the type of monetization you want to use. You can choose between pay as you go or subscription methods, use flexible systems, or one-off payments.
DateWare Platform Compatibility
With the DateWare platform, all your users will be able to access your social network no matter where they are and which device they are using. Ultimately, it can be accessed from all types of devices from TVs to smartphones.
Keep Improving Your Monetization
When you're using the DateWare platform, you'll also access multiple in-depth analytics that allows you to know more about your business. From user behavior to conversion, ROI calculation, and funnel analysis, you have many different metrics available that can help you get the most out of your new social network.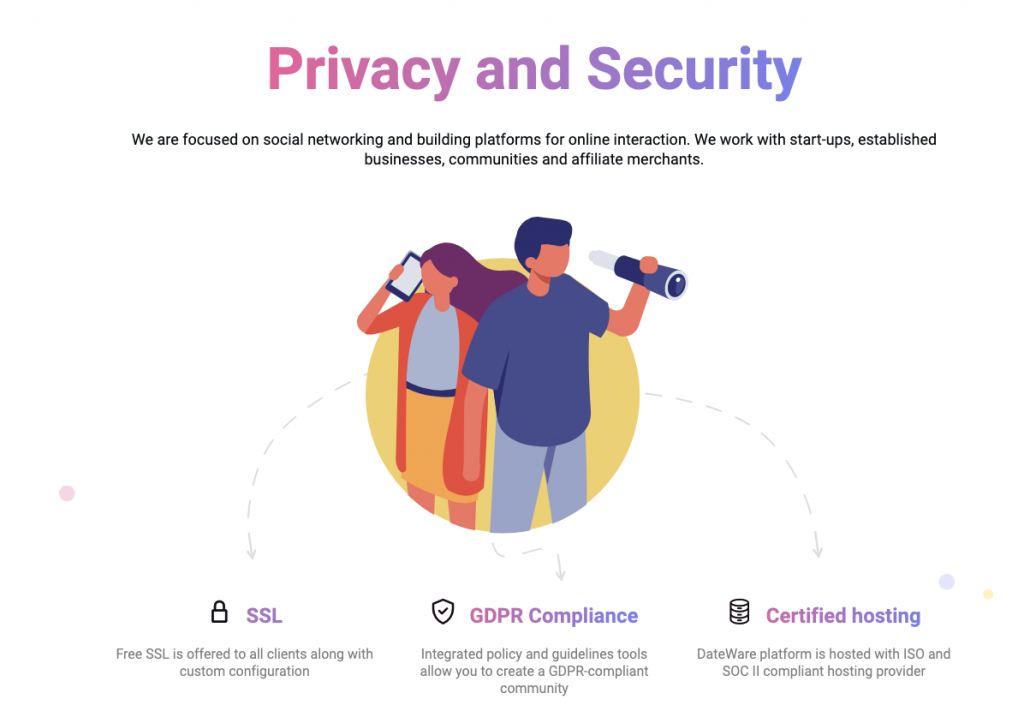 Privacy & Security
When building your new social network, it's crucial to keep privacy and security at the top of your priorities. With the DateWare Online Platform, you'll be able to take advantage of the free SSL (with custom configuration), certified hosting, and guidelines tools so you can create a GDPR-compliant community.
DateWare Platform Pricing
In order to start building your new social network today, you can choose between two different pricing schemes: Startup and Enterprise. The difference between the two is mainly related to your gross revenue.
Description:
Discover how to easily start your own social network with DateWare today. Enjoy the 60+ templates, different monetization systems, and in-depth analytics reports.